Hey Broadway Fans!
Or should I say Off-Broadway fans?
We always focus a lot of our attention here on Broadway shows, which of course we love, but where is all the love for the great shows happening Off-Broadway? There is so much good stuff to see happening just off the Great White Way. We thought we'd give you a taste of some of the great shows that are happening right now. And hey, you might end up saving some money since these shows tend to be a little bit cheaper!
p
Small Mouth Sounds– Signature Theater Company
"In the overwhelming quiet of the woods, six runaways from city life embark on a silent retreat. As these strangers confront internal demons both profound and absurd, their vows of silence collide with the achingly human need to connect. Filled with awkward and insightful humor, this unique and compassionate new play asks how we address life's biggest questions when words fail us."
Critics say its "as entertaining as it is transcendent" and a "remarkable range of pain, joy and hope in 100 deeply engrossing minutes."
Genius Tip– Arrive early to the theater or stay after the show to grab a drink or a bite to eat at the Signature café and bar. Take in the beautiful new building while enjoying the post-show happy hour special. Give yourself a chance to debrief after this ingenious play!
Stomp– Orpheum Theater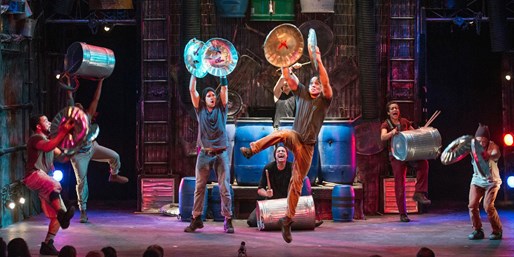 "A high-energy, percussive symphony, coupled with dance, played entirely on unconventional instruments."
Stomp has been playing at the Orpheum Theater ever since it opened in 1994, where it has played over 5,000 performances. This show is definitely a New York staple and a good show for groups and families to see!
Genius Tip– The Orpheum Theater is located in the East Village, far away from the Theater District. Take some time to explore the area before and after the show. There are plenty of awesome spots to grab food and drinks nearby!
Drunk Shakespeare– The Lounge
"One professional actor has at least 5 shots of whiskey and then attempts to perform in a Shakespearean play."
This "play," if you will, is definitely a show for those who want a more lively experience. Take in a classic Shakespearean play while also drinking along with the actors in an audience involved night of drama and fun. Come enjoy the show that is "zany, rowdy and debaucherous" according to the New York Times.
Genius Tip– There is a two drink minimum for the show and, depending on the type of experience you want to have, it might not hurt to grab a drink or two before the show (save yourself some money instead of buying drinks there). Of course you shouldn't overindulge, but it is also called Drunk Shakespeare so….just a thought.
iLuminate– Theater 80
"Music, art and the technological magic of iLuminate bring you a story of adventure and romance told through dance styles ranging from contemporary, hip-hop, latin and breaking, all using the power of light."
"With a mash-up of dazzling wizardry, spectacular dance moves, high-tech effects and fun new interactive games that allow the audience to participate, iLuminate delivers a unique dance-in-the-dark event."
Enjoy the new and inventive act straight from America's Got Talent! Come watch this group that was hailed as the "Best new act in America! " by Piers Morgan.
Genius Tip– This show is only an hour long but is packed with action, dancing and spectacle,  so it's a great show to take kids to, or the whole family. If you are looking for a powerful story line though, this might not be the show for you.